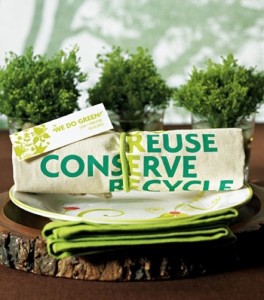 There are a number of different factors that you should be looking for when you are trying to figure out if your wedding venue is eco-friendly. The first thing you should do is ask the venue what action they take in terms of sustainability – most places that consider it to be important will be very proud of the work they have done and will not hesitate to tell you. However, some are definitely more eco-friendly than others!
Energy usage
 Any venue can look at their energy usage and make it a little greener. Even ensuring that their energy supplier has green policies can make a difference, but if you want to be sure of your venue ask them if they're using alternative forms of energy generation such as solar power or wind turbines. Ask if they take measures such as switching to energy saving lightbulbs – even simple steps like this can bring the carbon footprint down significantly.
Recycling
 Whatever you do in life there is always the potential to recycle and hotels and other wedding venues are no exception. Some have intricate systems that recycle grey water so it can be used in gardens, some will simply ensure that all of their paper is collected and recycled. Others will ask for guests to separate out the things that they use so that bottles, cans and paper can all be recycled. What about recycling of rainwater? Collecting rainwater for use in the hotel is a great water of cutting back on water consumption, which is another key factor in the eco-friendly world.
Local suppliers
 This is quite important. There is not much point choosing a venue that has all of its energy supplied by solar power if you find out that they import all of the flowers for their arrangements from another country. Local suppliers are essential to any company that wants to be greener. Florists, for example, could be using only seasonal flowers and foliage that they can source within a few miles. The venue's kitchens could ensure that they are sourcing meat, fish and vegetables locally too. Again, imported food – even from another state – can add to a carbon footprint significantly
Don't forget to ask!
 There is no point dismissing a venue just because they do not do things the way that you want. Ask if they can do it for your day! For example, if they do import flowers for their venue, ask if it is okay to use your own local supplier for that one day. While it would be good to have a venue that is environmentally friendly all the time, some are not, but you can make it so for your wedding day.
Most venues are happy to accommodate you if you have specific requirements. Why not take a look at their websites first – if they have green credentials they will normally publicize this. Many venues have been given green awards from TripAdvisor so why not start your search there? As always, we hope you join us at Ecoura in our commitment to preserving and protecting our Earth.