Planning an eco-friendly honeymoon can often be quite difficult, particularly if you do not want to compromise on luxury.  The good news is that some of the world's top luxury hotels have taken on board their guests' concerns about the environment and have started to make the changes needed for eco-friendly credentials.
Laguna Lodge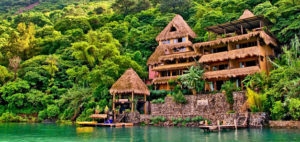 The jungles of Guatemala are home to the Laguna Lodge hotel.  With views of Mayan ruins, this luxury hotel is now one of the greenest in the region.  Designed using locally produced materials, this hotel generates its own electricity and has a water efficiency program. The menu in the restaurant is vegetarian and the hotel staff are hired from the local indigenous people. The design of the hotel also takes its location into account and minimizes impact of light and noise on the surroundings.
Cleaning agents and other products in the hotel are all vegan-approved, are created with the help of only natural insecticides and are biodegradable. The amount of electricity generated on-site is more than the hotel actually uses and there is a good energy management program in place, although the hotel does not have any official accreditations to show for it yet. You cannot reach the lodge by car, so when you arrive, be prepared for a hike or a boat-ride.
The Scarlet
Head over to the UK for The Scarlet Hotel, located in Cornwall, England.  The cliff-top location of the hotel offers amazing views and every aspect of the hotel has been designed to be as eco-friendly as possible. The building is energy efficient, featuring a green roof along with plenty of insulation to minimize energy consumption.
The restaurant at the hotel has a strong vegetarian menu and guests who want to feel pampered can make the most of the eco-friendly spa.  The two swimming pools are chlorine-free and solar panels are used to heat the water. All cleaning products and toiletries are environmentally friendly, with many of them sourced locally. The hotel has strong links with the local community, working with them on a number of different projects.
The hotel's roof is made from a native plant known as 'sea thrift' and the outdoor pool is filtered naturally with the help of reeds. Maximization of natural light means that there is not as much need for artificial light and there are car charging points for those guests who drive eco-friendly electric cars. Even used candle wax is recycled at this hotel!
No matter which side of the world you want to honeymoon on, there is an eco-friendly hotel that will suit you.  With environmentally-friendly spas, swimming pools and even haute cuisine, there is no need to compromise on luxury at all and you have no need to worry that your honeymoon is going to add to damage being done to the planet.