As trends for wedding dresses, themes and gifts come and go, so do those for wedding jewelry, so which trends are set to be big this year?
Vintage
Here at Ecoura we love everything vintage because not only is it eco-friendly, it helps you to connect with the elegant charm of eras such as the 1920s and 1950s. This type of glamour is easy to achieve if you opt for vintage pearls. They suit almost everyone and will not overpower the overall look. If you want to achieve a 1950s style go for a traditional pearl necklace – one strand is perfect for an understated yet polished look.  For the 1920s think Art Deco.  Jewelry in this style will feature silver and platinum much more than gold.  Art Deco costume jewelry features imitation emeralds, sapphires and rubies. You can also check out our line of Modern Vintage engagement rings at Ecoura.
Bohemian
Intricate floral motifs are a feature of the bohemian jewelry look. If you have opted for one of this year's feminine and flowing wedding gowns then a floral motif will add to the bohemian style. There is a current trend for diamonds and sapphires in jewelry such as cuff bracelets but if the budget doesn't stretch that far consider costume jewelry. There is a tendency to see bohemian style as simply hippy or ethnic but there is so much more to the trend than that. Having said that, jewelry that features crystals such as rose quartz or amethyst can help to add to the bohemian look.  Again, silver is favored much more than gold.
Go minimal
Simple lines in jewelry are becoming a popular choice with brides all over the world. This is because it is much more important to show off the dress and the event rather than have the jewelry take center stage. However, that does not mean that jewelry can't make a statement. Rose gold is growing in popularity and it has a very warming feel to it. Try a classic knot pendant, which will go well with column dress styles or strapless gowns. White gold is another option for a statement pendant – choose a dramatic stone for the center. For brides who prefer a more simple look, our Classic line of engagement rings are sure to please.
Renewed jewelry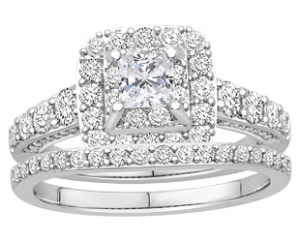 The most important piece of jewelry you can have on your wedding day is your wedding ring and Ecoura should be your first port of call for renewed gold rings.  Why pay out for a new gold ring when our renewed pieces are just as beautiful and will not leave a stain on the environment?  There is so much jewelry that isn't worn and it is a shame when it goes to waste.  Ecoura's eco-friendly outlook includes natural diamonds, so there is no need to worry that you will be compromising on glamour. Take a look at our range to find out more. Join us in our commitment to preserving and protecting the environment. Visit www.ecoura.com for more information.