India is such a beautiful country that already has a number of eco-friendly resorts, so if you want a greener honeymoon you've probably already considered it as a potential destination. Something you might not have been aware of is the luxury eco-friendly houseboats that take you along the beautiful waterways of the Kerala region and Kashmir Lakes and which are perfect for a unique honeymoon.
Rudra Houseboats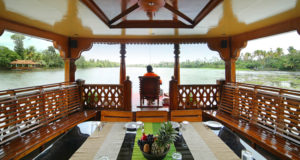 Your honeymoon is not a time when you should be thinking about cooking and cleaning so it makes sense to opt for a luxury houseboat where there is a crew to look after you. The Rudra houseboats in the Kerala region are generally manned by a Captain, a cook and an oarsman so you don't have to think about how the boat works or runs – you just relax and enjoy the amazing views.
Staff on the boat can prepare candlelit dinners each day for you to enjoy and you can book this five day houseboat stay as part of a longer trip to the Kerala region. The boat trip will take you to various places in the region to give you the opportunity to do a little sightseeing. The boat features luxury bedrooms and bathrooms as well as a kitchenette for you to use if you need to.
Kerala is known for its green spaces and there is even a nature reserve nearby where you might get to see a tiger or two if you are lucky. There are also beaches where you can relax and you could visit a tea plantation or two as part of your trip.
Kashmir boats
Boats can also be rented on the lakes in the Kashmir region of India. This is relatively inexpensive when it is compared to other luxury accommodations in the region and while most boats are designed to take multiple guests, it is possible to rent the entire vessel.  Try the Royal Houseboats, which are moored overlooking a lotus field on Dal Lake and are close to the region's popular floating market.
The historic Butt's Clermont Houseboats are also within relatively easy reach of the floating market and you would be following in the footsteps of celebrities like George Harrison. If you prefer something a little different, head to Gurkha Houseboats on Nagin Lake. Again, the accommodation is luxurious but this destination used to be popular with hippie travellers in the 1970s and 1980s so it has a very laid-back feel to it.
Many of the houseboats use solar power to generate electricity and there are recycling and water conservation measures in place. You can also choose to book your trip through one of the eco-friendly tour operators in the region so they can make sure that every aspect of your stay is a green one!