While at the moment only a small percentage of people make their wedding as eco-friendly as possible, in some parts of the world steps are being taken to encourage greener and more environmentally-friendly ceremonies.
India is one of those countries where – for many people – a lack of materialism makes it easier to lead an eco-friendly lifestyle. It has now been revealed that the government in the Kerala region wants to work with religious and social groups to encourage people to plan their day with the environment in mind.
The government there has already successfully implemented green strategies when planning major events including the Malayatoor Perunal and the National Games and this has given the authorities the boost they need to promote green strategies for weddings. Some of the district administrations have already launched strategies on planning eco-friendly weddings. The plans have been well-received so far and it is expected that a full green strategy will be in place soon.
What about other countries?
While there may not be an official policy in other countries about planning a green wedding, there are the facilities, products and services in countries all over the world for you to ensure that your own special day is as environmentally-friendly as possible. Most countries do have laws and regulations on the reduction of carbon emissions and programs that encourage eco-friendly practices.
How easy is it to achieve an eco-friendly wedding?
The truth is that it is easier than you might think. All you have to do is think about the factors that can add to your carbon footprint and change them. Consider a few simple changes such as:
Use decorations from biodegradable and recycled materials

Opt for vintage and recycled outfits for the bride and bridesmaids

Use local suppliers

Arrange car pools to reduce the number of vehicles being used
There are plenty of other ways that you can make your day eco-friendly and with a little imagination it will be a very memorable occasion.
Think about barn weddings, which will give your day a rustic feel or opt for one of the modern hotels that have been built with all the latest eco-friendly features that you could wish for, from solar panels for energy production to greener housekeeping policies. Head for one of the eco-friendly lodges that are appearing in resorts, towns and villages in many countries and opt for a honeymoon where there are plenty of environmentally-friendly features.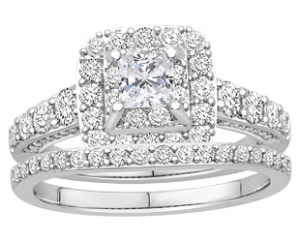 Finally, don't forget that it is just as easy to keep your jewelry eco-friendly. At Ecoura we produce wedding rings from renewed gold and for every engagement ring purchased we plant a tree, helping to give back to the environment. Visit one of our jewelers today and choose from our range of elegant and stylish designs for the finishing touch for your wedding!