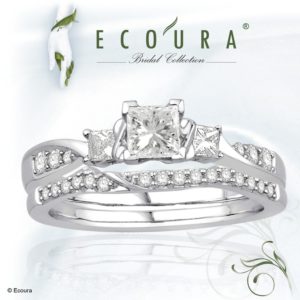 Getting eco-friendly wedding jewelry is not as difficult as you might think.  Industry leading eco-friendly jewelry manufacturer Ecoura utilizes renewed gold and other materials to produce beautiful pieces of jewelry that you will be happy to wear forever. There are a few ways to make sure that you get something that is truly ethical and eco-friendly.
Stones
Vintage stones are one option for those who do not want to wear unethical items. Retro jewelry is considered to be very on-trend at the moment and is a great alternative to buying new items.
There are also certification programs that you can check to make sure that the stones that your jeweler is using come from an ethical source. Your jeweler should also be happy to discuss the source of your stones with you too, so if you have any doubts make sure you ask!
Gold
The melting and refining process of renewed gold means that it offers the same quality as new gold. As many gold mines have an open-pit design the damage to the environment can be far more destructive than you think. Not many people realize that up to 30 tons of rock can be destroyed to find enough gold to make one ring.  Ecoura's renewed gold jewelry is a great option if you prefer to leave the rock where nature intended!
Go a little off-beat
Did you consider wood for your wedding jewelry? Not many people do, but this is a real eco-friendly option. There are designs out there that include strands of braided silver and some eco-friendly diamonds so you do not have to give up on the idea of wearing jewelry that will make an impact on your big day.
Finding your eco-friendly jeweler is actually much easier than you might think.  A few minutes spent with Google will bring you many alternatives in your local area.  Make sure you ask them what they can offer you that is eco-friendly and ask as many questions as you can about their material sources.
Remember that your wedding day jewelry and in particular your wedding ring should last a lifetime. Why compromise with a cheap alternative when you can get quality statement pieces. like those from Ecoura, that are guilt-free and designed to last for years?