No matter where you want to go for your honeymoon, there are eco-friendly hotels and resorts just waiting for you!  Mexico is no different, consider one of these for your honeymoon.
Xinalani Retreat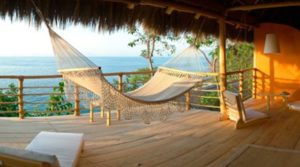 If you want to head over to Banderas Bay you could spend some time at the Xinalani Retreat.  This is a tranquil and luxurious resort with the ocean on one side and a jungle on the other.  This small hotel brings you close to nature and offers a range of workshops and wellness retreats. You also get to avoid the hustle and bustle of the main tourist destinations in the region, so peace and tranquillity are yours for the taking.
Escudo Jaguar Hotel
The Escudo Jaguar Hotel can be found in the state of Chiapas, right on the Usamacinta River.  As well as the range of hotel rooms, guests can opt for camping if they prefer to be closer to nature. This resort has been designed to appeal to the ecotourist and is run by the Chole natives. The hotel's on-site restaurant serves traditional dishes using locally-sourced produce. Activities available here include swimming, hiking and tours of local archaeological sites.
Xaloc Resort
The Xaloc Resort can be found on Holbox Island, on the edge of a white, sandy beach. The accommodation is luxury bungalows that have been designed to meet with eco-friendly standards. Guests on honeymoon here can simply relax on the beach or go swimming. Take the opportunity to pick up a few locally-made craft items to take home as souvenirs.
Hacienda Chichen Resort & Yaxin Spa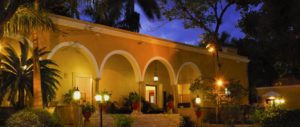 This luxury resort can be found near Chicen Itza and is perfect for those interested in local history, thanks to its proximity to a number of Mayan archaeological sites. The spa offers a range of treatments that take their inspiration from the native cultures. There is also a wide variety of ecotourist activities on offer in the local area and the hotel's staff will be happy to help you to book as needed.
Puerta Calakmul Ecovillage
This is a great honeymoon option for those who like their adventure holidays. The Puerta Calakul Ecovillage is located in Campeche, Mexico. It is located very close to the largest archaeological area in the region and the biosphere. There are so many amenities on site that it is so easy to relax and unwind, but there are also plenty of trips you can take part in to explore the surrounding area.
There are plenty more eco-friendly honeymoon destinations in Mexico so why not do a little research and find out more? Mexico is filled with hidden treasures and the examples mentioned here are ideal if you don't want to compromise on luxury.  Simple measures such as recycling programs and energy efficiency measures mean that you can enjoy those luxurious touches without leaving a black mark on the planet.