When you are planning your eco-friendly wedding, Las Vegas is probably not the most obvious destination.  Usually associated with bright lights and glitz, this city does have its fair share of venues that are taking a keen interest in the environment and which can help you to have the day of your dreams without denting the ozone layer any further.
Chapel of the Flowers
At the Chapel of the Flowers the team works hard to keep their carbon footprint to a minimum.  One change has been to purchase flowers for the venue in small quantities and in accordance with the requirements of each couple. As much as possible for the venue is purchased locally and when items need to be delivered to other locations a fuel-efficient van is used. There are several outdoor wedding locations to choose from at the venue so you can make the most of the natural beauty of the surroundings and of course, the natural light.  The venue has its own photographers and instead of printing out all the photos you can simply go online to view the images to choose which ones you want to have printed. Planning your day can all be done via the website and email if you prefer so you can keep your own carbon footprint low.
Aria at CityCenter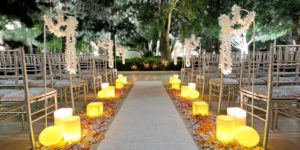 This venue is one of the largest hotels to achieve the LEED Gold certification. Eco-friendly features here include a natural gas plant to generate both energy and heat and it also keeps emissions to a minimum.  There are water saving and recycling programs and all cars at the venue are gas-powered. The hotel uses low-watt lighting to keep energy usage down and also has a number of features designed to reflect the sun so that the cost of cooling the building is much lower.
Springs Preserve
This venue is also LEED Certified and is home to an ecological café and catering service.  Those who come here can not only enjoy a greener wedding day but can also learn more about desert life.  Food produced for events here all comes from local suppliers who offer fresh and organic produce.  The carpets are recycled, the building has straw bale insulation and there are cooling towers attached to the hotel.  There are also facilities to produce solar power and wind power and there are a number of recycling initiatives.
Choosing Las Vegas for your big day does not mean that you have to buy into the ostentatious image of the city where there are cars galore and energy consumption is at an all-time high.  All you have to do is a little research and you could find that you have a venue that can do everything you want for the environment and still give you the glamorous day to remember.