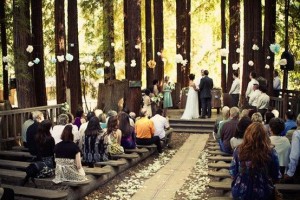 Those who want to live a greener lifestyle may pay a lot of attention to the finer details of their big day, ensuring that it is as green as possible. However, you might want to consider how to make your planning process greener too. It might sound strange but everything we do has an impact on our planet in one way or another. Remember that there is a lot of moving about to do when you are planning a wedding and this will add to your carbon footprint, so why not try a couple of these tips to keep it to a minimum?
At-home research
 The internet is a great way for you to limit the damage you are doing to the planet because you can use it to find out more about things like venues and suppliers. You can take a look at the websites for the various places and suppliers that you are interested in and then create a shortlist that way. It could be that you need to know if a specific hotel has certain facilities available and their website should be able to tell you that. You will only need to arrange a visit if you are sure that you want to consider it for your wedding. It is great to visit places but it is also a very easy way to increase your carbon footprint.
Careful visits
 When you do want to arrange visits prior to the wedding, try to visit venues that are close to each other around the same time. For example if you want to visit a couple of venues that are 10 miles away from your home, try to visit them on the same morning or afternoon in order to limit the amount of travelling that you are doing.
The same thing applies to meetings with suppliers. If you are planning an eco-friendly wedding the chances are you are using local suppliers for your big day anyway but it can still help to make the planning process greener if you meet with them all around the same time and in the same area.
Are your suppliers green?
 You should be able to answer this question from the initial stage of your research. If you take a look at your supplier's website it should say if they have been working sustainably or not, or tell you what your eco-friendly options are. If there is no information on this then make a phone call and ask the question. Don't wait until you have travelled to meet the supplier to ask because that could just be a wasted journey if they are not able to meet your criteria. Those who do work to eco-friendly standards are usually very proud of this and will post it on their website for all to see!
Starting the planning process for your wedding is a very exciting time and it is very easy to get caught up in the excitement but if you want to have the greenest wedding that you can then a little bit of research will help you in the early stages.