Once your big day has come and gone, there will be plenty of things for you still to deal with.  What are you going to do with that wedding dress?  What about the bridesmaids dresses?  The flowers?  It can be tempting just to pack some things up and put them away for good, but the truth is that there are plenty of options for reusing and recycling some of your wedding items.
The Dress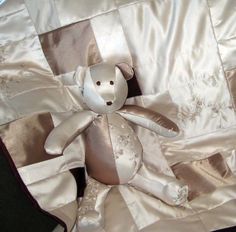 There are so many options here that there is bound to be one to suit you.  You could have your wedding (or the bridesmaids dresses) made into a completely new outfit.  If you are handy with a sewing machine this is something that you can do yourself or you can enlist the help of a crafty friend.  Dresses can be shortened, sleeves removed or shortened and you can add all kinds of embellishments that will give the garment a whole new look.  You could even have the dress made into a top and skirt so that they can be worn as separates and you can remove the whole 'wedding' feel from it by dyeing the material a different color. How about an adorable baby blanket and bear?
You could pass on your dress to another person who will use it.  Maybe you want to put it away for another family member to use but remember that there are plenty of ways you can pass your dress on to other people. You could donate it to charity where it can be sold in a second hand store.  Alternatively you could sell the dress yourself online and recoup some of the cost – remember that wedding dresses are not cheap and in most cases the bride is unlikely to wear it again.
The flowers
 Your wedding bouquet can be preserved so that you can keep it for a long time as another reminder of your big day, but the bigger the bouquet the more space you are going to need for it.  You could just choose to preserve individual flowers from your own bouquet or the bridesmaids' bouquets.  These can be dried and placed in scrapbooks, frames or you can use them to decorate thank you cards to send to everyone who was kind enough to buy you a gift.
The stationery
We have already mentioned creating a scrapbook of the day and to this you can add samples of all the wedding stationery used on the day.  You may find that you have plenty of things to include like the wedding program.  Once you have saved one of these in your scrapbook, send the others with your paper recycling.
The catering
 On the day itself you should make sure that there is no food waste by ensuring that people take food home with them – providing doggy bags from an evening buffet is easy enough.  Anything not claimed could be sent to a local homeless shelter or food bank.
You do not have to go to any great lengths to ensure that there is no unnecessary waste after the wedding.  Why not make a plan before the big day so that you can put it into action if you need to?