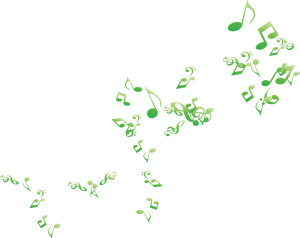 You might wonder just how you can make your wedding music green. Unfortunately the music industry as a whole is not generally environmentally friendly, although steps are being taken to change this.  Record labels are starting to make small changes, such as the use of environmentally friendly paper for CD and DVD liner notes.  The music industry made a big effort to reduce waste and improve recycling and managed to cut back on waste by 4 million pounds.   Some musicians are making financial contributions to green programs including renewable energy programs and climate change.  Some artists are working with Reverb, a non-profit organization that makes music tours environmentally friendly.
It is possible to have 'greener' music at your wedding, but the fact is that you are going to be relying on your band to help you out with their green credentials too.  However, there are a few things that you can do to make sure that your wedding music is as eco-friendly as possible.
First of all you could hire a band that takes an interest in eco-friendly matters.  They could make an effort to ensure that their work is carbon neutral.  This might mean that they offset their travel and other energy consumption by supporting green projects such as tree-planting schemes.  It may be that they make an effort to ensure that their stage outfits are made from sustainable materials or they use a greener form of travel to get to and from their performances.  It is worth asking your chosen band about this – while some will make sure this information is on their website, there will be plenty that have just not made it public.
Another option is to find acoustic performers.  Energy consumption drops dramatically when your band is using instruments that do not require electrical help!  Acoustic music can be very atmospheric and you will lose nothing by choosing a band like this.  However, if your band does use electrical instruments then it will help if you choose a venue that uses renewable energy sources.
Finding a band locally is always a good option.  A local band will not have to travel far and will therefore not be creating a huge carbon footprint.  Ask around and find out who friends and family have used on similar occasions.  Talk to people at your church – it is becoming a very popular option these days to use gospel choirs to perform at weddings and you can often find other musicians this way too.  People have been known to make a variety of music choices for their wedding, with one couple in the US reported to have hired a college marching band as entertainment.
When you talk to prospective musicians, make sure that you ask them what measures they take to ensure that their music is environmentally friendly.  It does not take a lot to make a difference and even a few greener measures can dramatically reduce the carbon footprint of a performer.