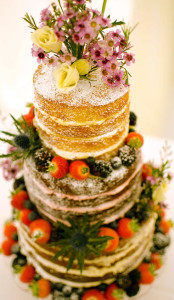 Of course you can have an eco-friendly wedding cake but never think that you have to compromise on style or quality just because you want to take care of the environment.  There are a few tips you can follow to make sure that you get the exact cake that you want for your big day.
The first tip is to go for organic ingredients.  Even if you're having your cake made for you by a bakery you can specify that you want them to use organic.  Don't be afraid to ask if they offer an organic option, many do, they just don't advertise it.  You could also consider a vegan cake without worrying about compromising the taste.
The next step is to make sure that you have chosen a local bakery that will use locally-sourced ingredients.  This means that neither the ingredients nor the bakery will be creating a huge carbon footprint by bringing items halfway across the country or even from other parts of the world.
For your cake decoration you can opt for candied flowers – organic of course! – or fresh flowers.  Consider edible herbs and other leaves as part of your decoration or go really offbeat and decorate it with costume jewelry that can be used again.  If you do want to have flowers as a decoration then you can consider growing your own so that you know they have not added to the carbon output of your area.
For ingredients that are not grown locally you can opt for Fairtrade instead.  Not all areas have farms that grow things like bananas, nuts and cocoa beans so when you need thinks like chocolate you can purchase Fairtrade so that you know that they have been grown ethically and that those working there are working in good conditions and receiving fair pay.
Don't forget that you need to add an eco-friendly wedding cake topper too.  Reusing a topper that a friend (or relative) had is one option or you can have one made from sugar.  Remember that in many cases cake toppers are only used once and are often forgotten about afterwards.  You can make your topper sustainable and very personal to you if you give it a little thought.
What are you going to put your cake on?  You will need to have some sort of cake stand and it is a good idea to find one that has been made from recycled materials.  You could also opt for a vintage cake stand or one that you know will be used again.
To make sure that you are not making a huge impact on the environment, you can also take care to have a wedding cake that is not too large.  Consider the number of guests that are going to be at the wedding and the extra pieces you might want to send to those who can't make it on the day and plan for that amount only. Three tiers may look great but you could be left with a lot of cake that isn't needed!