The honeymoon is not simply a vacation after a wedding – it is a chance to see another part of the world and introduce yourselves to new cultures, but there is also a growing trend for adventure honeymoons.  However, how does this fit if you are trying to be as eco-friendly as possible?  The good news is that an adventure honeymoon does not have to compromise your environmentally-friendly ambitions.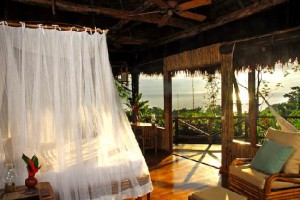 Consider Costa Rica, where you can stay in one of the eco-lodges at the Lapa Rios resort.  In the heart of a large nature reserve, you can spend your stay here watching the wildlife, horseback riding, kayaking in the ocean, hiking or even tree planting.  A visit to the Corcovada National Park is a great place to spot sloths and other wildlife or you could spend some time rafting through the rainforest on the Pacuare River and visiting the local indigenous communities.
Staying with the eco-lodge theme, why not try Australia's Daintree resort in Queensland.  This is a very small resort where you get to relax and enjoy spa treatments or you can opt for one of the adventure tours, walks in the rainforest or jungle surfing!
Africa is a great place for the eco-adventure honeymoon.  Katavi National Park in Tanzania is a popular destination along with the Mahale Mountains.  Guided tours will allow you to spend a night under the stars in the bush and as this is a relatively undiscovered part of the country, you will not be tripping over tourists every few minutes.  Walking safaris are an adventure option for your honeymoon or you can trek through the mountains and try to spot chimpanzees.  At the end of an active day you can relax sailing on a dhow around Lake Tanganika.
Next stop – India!  At Ladakh you can stay in one of six Shakti houses.  These are village-located and can be found in a part of the Indian Himalayas that is well and truly off the beaten track.  The accommodation is authentic and comfortable. Most of the places you can visit from here will be fairly remote and you are unlikely to see another tourist.  You could spend time rafting up the Indus river or take part on the Shayok River Journey which will lead you through the Nubra Valley. The guides can set up camps along the river as you travel.
Remaining in India you could also take a honeymoon break and include the Himalayan Village Walk.  This honeymoon is a mountain retreat where you get to relax but you can also add in elements of the adventure holiday.  The traditional village life is on offer on this vacation where you can learn things such as how the traditional flour mills work.  Part of the trip will see you staying in more luxurious accommodations and eco-spas too.
No matter where you want to go in the world there is an eco-adventure waiting for you.