A Christmas wedding conjures up images of snow-covered churches and warm rich colors such as deep red and purple and if this is your vision for your Christmas wedding you do not have to give up on this if you are concerned about the environment.
For wedding dress and bridesmaid dresses you do not have to compromise on quality or fabric in order to achieve the look that you want.  Organic versions of silk are readily available these days and are much more environmentally friendly than the standard versions.  You can also opt for the vintage dresses which mean that you are not having a new dress made at all.
For a Christmas wedding bouquet, opt for white flowers but give it some winter touches with the right foliage and accessories.  Pinecone bouquets have now become popular for Christmas weddings!  Interspersed with a few winter flowers these can look very rustic.  Talk to your florist about the type of flowers that are readily available locally.  Remember that during the winter months, flowers such as roses are either grown in special greenhouses or imported from other countries, both of which have a heavy carbon footprint.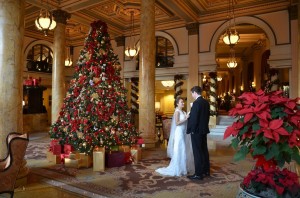 Consider foliage for the decorations for the church and reception venue.  Ivy and holly are perfect for Christmas weddings and in some areas can be easily gathered locally – just make sure that you have permission from the landowner first.  If you plan far enough in advance, there is no harm in growing your own.  Add pinecones to the table decorations and give them touches of color with silver and gold paint or opt for the same color as the bridesmaids' dresses.  In some cases a church will already be decorated and will need very few additions to meet your Christmas theme.
For the food at a Christmas wedding you could embrace the Christmas theme completely and opt for a roast dinner, the ingredients for which are normally produced in most areas.
Another aspect of a winter wedding is how to keep everybody warm on the day.  The carbon footprint of traditional heating systems can be large so it's a good idea to talk to your venue about the eco-friendly possibilities.  Some venues have solar power and other environmentally friendly options but this does not apply to all so a bit of research will be needed in advance.
One option for a winter wedding is a specialist marquee or wedding yurt.  This approach is ideal for those who want things to be a little more quirky but there is the option of heating the yurt with a wood burner.  As wood is a renewable energy source it is much more eco-friendly than most other options.  Find out if this option is available to you locally – the eco-friendly credentials are reduced if it has to be brought in from more than a few miles away.