These days the bachelorette party often turns into a weekend of celebrations,  and for this reason it's worth taking a look at a few environmentally-friendly options to see if your festivities can be organized without leaving a mark on the planet.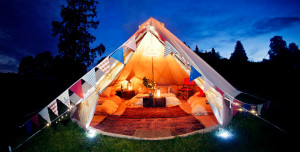 The first thing to consider is where the celebrations will be held.  Consider something fairly close to home so that you do not have to include air travel.  Why not try luxury camping?  This does not mean spending a weekend huddled under damp canvas – many luxury sites offer 'glamping' pods or yurts that are furnished with four poster beds, luxury bathrooms and wood-burning stoves.  A quick look on the internet will show that you are never far away from a site that offers the luxury option.
If the celebrations are to be for one evening only then look for a hotel or restaurant that has strong green credentials.  Many have a sustainability policy and use renewable energy sources and local suppliers.   Alternatively, enlist the help of a party-goer with a large house and you can all head there, armed with organic food and drink and plenty of good music!
While a good bachelorette party involves plenty of delicious things to eat and drink, it is also becoming more traditional to have organized activities.  Why not consider craft workshops during the day before you party in the evening?  There are organizations that will come out to your home if you prefer but there are always plenty of places not too far away where you can learn popular crafts such as card-making.  You could also make this wedding themed – you could arrange a craft afternoon where guests can make their own fascinators for the wedding or even come up with a few decorations for the wedding reception.
When it comes to the food and drink for your bachelorette party you need to be aware that drinks such as wine can have a large carbon footprint.  There are also many chemicals involved in the creation of the final product.  However, if you opt for organic wines that do not use the same amount of chemicals then you can reduce this dramatically.  You should also consider locally produced wines if you can, but as not all regions are known for wine production then try to source as near to home as possible!  The good news is that there are plenty of organic restaurants around and it should not take too much effort to find one close to you so eco-friendly food should not be a problem.
Finally, make sure you consider transport.  Public transport is usually the most eco-friendly option but it is not always practical so where possible share cars or cabs.  Take a bit of time in advance to consider this aspect of the night out.  Find out how many people are going and think about the logistics of moving everyone from one place to another.
With a little bit of planning you should end up with a bachelorette party that is lively, fun and causes far less damage to the planet than you might think.