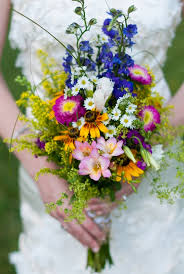 Okay, so you're planning every last detail of your wedding and have just been quoted a horrendous price for your wedding bouquet and other flowers.  Can florists really justify hundreds (many times thousands) of dollars for some foliage and a few roses and lilies?  The sad fact is that they can and do expect people to pay this kind of money for something that seems to grow abundantly, partly because they now call it 'floral art'.  A real florist does have artistic skill, but that does not mean that the rest of us cannot learn a few tricks of the trade.
The first step is to source the flowers.  Even buying them from a florist and arranging them yourself could leave you with a hefty bill to pay, so the obvious answer is to devote a little time – and a good part of your garden – to growing the flowers yourself.  However, this is not something that you can decide to do at the last minute – you need to allow plenty of time for the flowers to grow and you need to time it all very well.  It is a good idea for those who are new to gardening to get a bit of advice from those who have green fingers.
Decide on the type of flowers that you want.  It may mean buying seeds, plug plants or bushes (in the case of roses) for the main flowers but then there are all kinds of plants and flowers that can be used as 'fillers' in the arrangements.  Again, take into consideration the time of the year that you will be getting married as what is available will vary.  Pinks, carnations, cornflowers and daisies are all great favorites and perfect for adding a splash of color.  If you want a rustic style bouquet then you can pretty much throw in anything that you want.
The amount of flowers you grow will also depend on whether or not you are making your own centerpieces for the tables and providing flowers for the ceremony.  Another factor is the number of people invited to the wedding.  A small wedding might only require six centerpieces but a larger gathering could mean that you need arrangements for 15 or more tables.  Make sure you have plenty of space for growing the flowers.  If space is limited, make arrangements to commandeer space in the gardens of friends and family!
As the flowers will not last forever once they are cut it is important to leave it as long as possible before taking the secateurs to them.  The best way is to deal with the flowers the day before so factor this into the schedule with plenty of time allowed as things like this always take longer than you might think.
A nice touch is for you to make your own confetti from the petals of flowers that you will not be using –hand this out to the guests to throw on the day.  Environmentally friendly and pretty to look at – what more could you want?