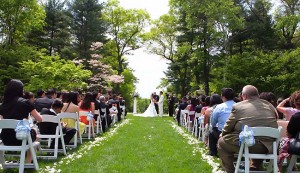 The perfect wedding is accompanied by the perfect wedding venue, but you may have to look a little harder to find a beautiful venue that shares your devotion to environmentally-friendly issues.
 Location, location, location
 Location will add plenty to the eco-friendly credentials of your wedding.  Choosing somewhere within easy reach will allow both you and your guests to travel to the venue without building up carbon emissions while traveling. If the venue is not close by then consider transporting the guests there on buses or arranging a carpool system.  It is also a good idea to choose a venue that can host both the ceremony and the reception to save on traveling time.  The thought of an exotic wedding abroad might be appealing to many people but this can have a serious impact on the environment – even if it is just the happy couple that flies out.
 Think non-traditional
 You may have to consider venues other than hotels for your wedding.  These days there are any number of unusual venues that offer facilities for both wedding ceremonies and receptions.  Plenty of museums, farms, art galleries, historic buildings and botanical gardens offer facilities for hosting one or both parts of your wedding day.  This might help you to find a beautiful venue fairly close to home that will prove to be a talking point among your guests.
 A summer wedding means that for your reception an outdoor venue might be suitable.  A naturally beautiful setting will need little in the way of enhancements thus making it far more eco-friendly than many venues.  The trend for outdoor weddings has grown in recent years and shows no signs of abating.  It can make for wonderful wedding photographs too. 
 Finding a green hotel
 There are a few questions that you need to make sure that you ask when considering a hotel as a wedding venue.  There are already advantages to choosing a hotel as many guests might stay there, thus reducing the environmental impact of traveling.  Ask the hotel if they use local suppliers, if they use recycled products and if their energy and water supply are eco-friendly.  There are many hotels around that supplement their electricity supply with the use of solar panels and that collect rainwater for use in the building. 
 Need a helping hand?
 There is a growing number of wedding planners that now specialize in green weddings.  If finding all the right eco-friendly wedding features that you want seems like an overwhelming task then it makes sense to enlist a professional to help things along.  The advantage with a wedding planner is that they will already have contacts at various hotels and other venues, as well as the ability to source quickly other aspects of the day such as transport, caterers and photographers.
 However, when starting the planning process it is a good idea to spend some time online searching for exactly what is available in the area that you want so you can plan the day with a greener edge.